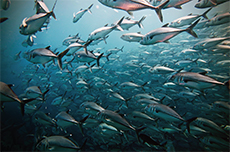 Exploring the World's Aquarium
Jay Clue
Picture diving in Mexico. What comes to mind? Sacred Mayan cenotes? The gorgeous coral walls of Cozumel? What if I told you there was more beyond the lush Caribbean coast...

Hidden to the west, just a short flight south of San Diego, lies a magical place where the Sea of Cortez meets the Pacific Ocean. Cousteau nicknamed this area "the world's aquarium," for its unparalleled abundance of marine life. The seas around Baja California host over 900 marine species and are perhaps the most densely populated meeting grounds for migratory species in the world.

The southern tip of the Baja California Peninsula hosts 3 main areas, each with their own unique offering for divers. The Cabo San Lucas Marine Park boasts a wide variety and abundance of life from tiny nudibranchs to massive humpback whales. Cabo Pulmo National Park is famous for its enormous school of jacks numbering in the tens of thousands. While La Paz offers diving with mischievous sea lion pups and a resident colony of whale sharks. Unlike Cozumel or Playa del Carmen–Baja's big brothers on the Caribbean coast, these areas are home to only a handful of dive operators. This translates to quieter dive boats, more relaxed diving, and a lot more to explore...

To read the rest of this article, you'll need to get your hands on Tanked Up Magazine. It's free. What are you waiting for?