In the Bum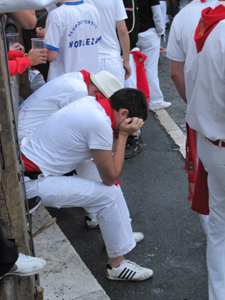 We went to the Running of the Bulls in Pamplona today.
When we set up the Midlands Diving Chamber, we (by "we", I mean "Simon" - El Dictatador Generale de la Camara Hiperbarica) spent about 34 years filling in risk assessment forms for the Healthcare Commission. In order to get approval, we (Simon) had to ensure that, for example, the door frames were painted a different colour to the walls, so as to avoid someone mistaking a wall for a door and accidentally killing themselves trying to open it.
The conversation between the organisers of the Running of the Bulls and the Spanish Health Authorities must've gone something like this:
"So, we release ten bulls into the street and hit them with sticks so they get angry and run really fast."
"Sounds like fun."
"Yeah, there'll be a couple of hundred people on the street that they run down. They have to try and get out of the way."
"And if they don't?"
"They get gored."
"Of course."
"We're only expecting serious injuries every three or four runs."
"And it's an annual event."
"Yeah. But we do eight runs every year."
"No problem. Just try to make sure everyone stays up all night beforehand, drinking heavily."
"We'll do our best."
Whilst there was clearly no way either of us was going to set foot in the actual street and run with the beasts (and the bulls), and so no danger of anything actually exciting happening in this blog, we watched the violent highlights of previous runnings on Spanish TV the night before, and I confess I got slightly nervous.
Marina helped quell any worries by telling me a story from her early nursing days. To put this in context, I'll relate the story she told me on the day I had a chest exam for my Australian visa (I had to have one because I once glanced at a foreign country and might have TB):
"We had to have a chest exam to work in the chamber in Melbourne", she began, "yeah, it was really good because one girl turned out to have a massive tumour she didn't know anything about." I waited for more but there didn't seem to be any.
"So... what happened? Did they operate? Did the x-ray save her life?" I enjoy the odd cigarette twenty or thirty times a day, which hasn't escaped Marina's attention since one of our hobbies is her berating me about it, so it was in my interests to find out.
"Oh, I dunno", she replied, "I never saw her again."
Anyway, early in her nursing days, Marina attended to a man who had been gored by a bull on a farm. She said its horn went straight through his abdomen. "I'd been hoping people would be slipping around on guts", she added, "but in the end it was pretty boring. There was a lot of blood, though." Then she told me about her last "amusing animal story", as she put it, from her days in a Melbourne hospital: "A guy got kicked in the head by a kangaroo", she laughed, "he survived but he had pretty severe brain damage". I lit another cigarette whilst she chortled away to herself.
It's impossible to find accommodation in Pamplona during the festival, so you either have to stay there all night drinking with 12,000 Australians, or pay €112.92 to get a taxi at 5am. I insisted on the latter as one Australian is enough in anyone's life.
Since we had to get up at 4.30am, we resolved to have an early night, starting with a quiet dinner at 9pm accompanied with a splash of red wine to help us sleep. By splash, I mean bottle, and by accompanied with, I mean preceded by. After the bottle, we wandered out for a spot of tapas and washed it down with another glass of red wine or two. Then another bar for more tapas and wine. In the next bar we dispensed with the tapas as it was distracting our attention from the wine. In the next bar we tucked into some gin and tonics, a couple of beers and the odd tequila. We got to bed at 4am.
At 5.10 this morning, we were woken up by the sound of our taxi driving off in the street below. I made a panicked call to the taxi company and knocked things over whilst Marina disappeared to "not be sick". Fortunately, when the driver reappeared ten minutes later he took pity on us and drove at 140km/h down the winding pre-dawn darkness of the Basque country roads to get us there on time. I tried to apologise to him, but my Spanish wasn't at its best: "I'm sorry because of... late" I croaked.
As we pulled up at 6.10, the first thing we saw was a youth trying to sleep by standing upright and resting his head against a lamp post. We emerged from the taxi into scenes of carnage that closely resembled a Sheffield United home game. The narrow streets were filled with filth, beer, sticky wee, smashed things and hordes of people dressed in red and white, singing, dancing, micturating, trying to walk through each other, waving their genitals about and screaming. As we wandered through the mobs down the street destined for the run, which still smelled of bulls from the previous day, I couldn't help but wish I was either safely tucked up in bed or as drunk as I had been two and a half hours before. Mostly the latter.
Trying to find somewhere to stand was utterly confusing, and in any case all the places where you might actually see something were already taken. Finally, we stood behind some Americans at the end of the route and waited for time to pass. As it did so, the tension in the air became palpable. I contemplated asking Marina what would happen if the excitement provoked a heart attack in me, but decided against it because I knew she'd tell me. Finally, the starting rocket went off and the bulls were thus released. Two and a half minutes later the runners and the bulls passed in front of us.
I nearly saw a bit of a bull.
Fortunately, I had my camera running in video mode and was holding it over the heads of the three people in front of me, so I got some excellent footage where you can nearly see almost 40% of a bull.
As we wandered off for an 8.15am beer, our misspent adrenaline was slightly rewarded by the sight of a man lying face down on a stretcher, with his trousers at half-mast, having the gore wound in his botty attended to. I wanted to take a photo but I got bored of shoving the paramedics out of the way who were selfishly cluttering up the shot.
An hour or so later we had the quietest bus journey I've ever known, back to San Sebastian. Like everyone else on the bus, I slept through most of it. Everyone except Marina that is. Marina and the bloke next to her who was quietly vomiting into a bin.
Rob