Like Forever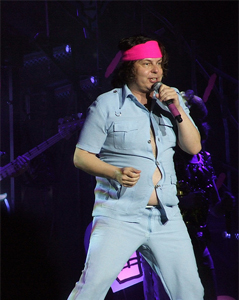 We are in dire need of a Larrectomy.
I believe I alluded to The Man Who Invented PADI somewhere in the vomiting monologues. His name is Larry. He is, as the name suggests, American. Imagine Bob Fossil from The Mighty Boosh (if you can't imagine it, Google it) except wearing one of three t-shirts depicting option a) a stingray, option b) a turtle, or option c) Bob The Fish: the fish with attitude. The t-shirts are badly faded and the former two bear corporate-sounding logos like "Mastering others is power, mastering yourself is true strength". He had them made himself. He didn't make Bob The Fish, though. Bob The Fish is the fault of another human being entirely. Bob wears sunglasses. Because he has attitude.
Larry, unfortunately, decided to accompany us on the long train, taxi and boat journey to the Perhentian Islands in Malaysia. He has some sort of fixation with Cozumel and specifically, the underwater visibility in Cozumel, which, he has led us to believe, is quite good. A sample conversation, which took place whilst waiting for the boat in Koh Tao, at the beginning of the long, long journey, follows:
Larry (flicking through photos on his iPod): See this guy over here: he's at least a hundred feet away.
Rob: Yes.
Larry: But you can still see him really clearly.
Rob: Yes.
Larry: Because the visibility is so good.
Rob: Yes.
Larry: The visibility was SO good that in my logbook, where it asks you: "visibility", I just put "forever".
Rob: Yes.
Larry: See this one?
Rob: Yes.
Larry: See that rock over there?
Rob: Yes.
Larry: That rock is probably a hundred twenty, hundred thirty feet away.
Rob: Yes.
Larry: But you can see it really clearly.
Rob: Yes.
Larry: Because the visibility is so good.
Rob: Yes.
Larry: The visibility was SO good that in my logbook, where it asks you: "visibility", I just put "forever".
Rob: Yes.
Larry: Look at this one. You see that bommie over there?
At this point I will afford you the luxury that we don't have by writing "etc."
Larry informed us on several occasions on that long, long, long journey that his philosophy is basically just to "mellow out: I'm a mellow guy, you know, anything that's mellow? That's me right there. Mellow". Unfortunately, some of his actions have given us recourse to question this. For example, the aforementioned boat from Koh Tao was three hours late which meant we were in danger of missing the train. Larry spent most of the three hours that he wasn't telling us about the visibility in Cozumel, hectoring the Thai staff in the boat office. Grilling them for information, which they didn't have and then returning to report the bad news to us and anybody else within earshot of his loud, urgent, Californian voice. He has a habit of helpfully punctuating these pieces of news by reminding you that the boat was due three hours ago and that you have a train to catch. Then he revises his plans in the face of any contingency, but not in his head of course; no, he does it out loud. To be honest, I don't think he's used to travelling in Asia. He often appends footnotes to the above observations, helpfully explaining how things work differently in the US and that this sort of thing wouldn't happen there. I feel that might be because it's the US, and not Asia, but I'm only guessing. Then he'll sit down and tell you he'll just deal with it, because that's the way things go and he can't do anything about it so he'll just be mellow. Moments later he'll be back in the office.
When the boat did arrive, he seemed to spend most of his time asking fellow passengers what train they were hoping to catch and pointing out that they might be out of luck because the boat was three hours late and it was supposed to be here at four. But it didn't arrive until seven. Because it was three hours late.
We missed the train. Fortunately, there was one two hours later. We had to pay £15 extra each to get a ticket, but Larry was able to deal with it. Because he's mellow. Around this point Marina berated me for smoking too much and my standard response that in fact it is she that is smoking too little didn't cut it as well as usual, so I pointed out that I was hoping that if I smoked enough, I'd be dead from cancer before the night was through. She seemed to sympathise with that.
In truth, I was also slightly nervous as Marina had made the mistake of checking the Australian Foreign Office website for travel info in southern Thailand and northern Malaysia. The British one is excellent, suggesting things like "Probably shouldn't head into Kabul just now, old chap. Give it a day or two for Johnny Foreigner to calm down a bit and go for a jaunt then", doubtless whilst wearing a Panama hat and tucking into a G&T. The Australian one, as Marina pointed out, is a bit more along the lines of "Do not open your front door under any circumstances: there are terrorists out there waiting to kill you". The trip itself was fine though, obviously, and it's always calming to share a carriage with a teenager in uniform, snoozing on the barrel of his machine gun. I asked him if I could borrow it at one point to shoot Larry forty-seven times (he wouldn't mind, because he's mellow), but I think he'd already tried and discovered it wasn't loaded.
Once over the border, Larry's lack of communication skills delayed us again. The ATM machine claimed he'd typed in the wrong PIN so he couldn't get cash and opted to see if he could make a counter withdrawal. However, instead of walking into the bank and presenting the limited-English-speaking Malays with the card, smiling gormlessly and saying something like "Can I get money?" he said "Yeah, I just tried my card in the teller machine outside and it's telling me that I typed in the incorrect PIN, which I did not, so I'm wondering if there's maybe any way I can use this card or one of my others, because I have a couple, to get some money over the counter here or whether I need to change some US dollars in notes because I got some of those as well." The clerk pointed in a random direction and said "other bank", then carried on taking 45 minutes to cash my traveller's cheques.
When we finally got here, it seemed there was not a room on the island spare. I know this because I spent half an hour looking after the bags on the taxi boat, sitting on the engine fuel and smoking cigarettes, watching Larry storm from guest house to guest house, gesticulating wildly whilst Marina wandered in his wake. We were lucky though and got the last two rooms going.
It would have been far easier in the US but Larry wasn't worried, even though the vis is better in Cozumel, because he's mellow.
Rob