Sloblock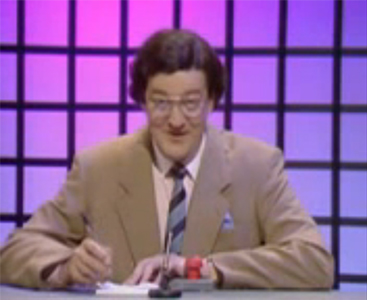 The day before yesterday, I appeared as a contestant on the Australian version of Countdown.
It's called Letters and Numbers over here, despite being identical to the point where it even seems to have the reincarnation of Richard Whiteley on it, and my performance would best be described as an anagram of this. No, not hits.
Strange day. They film five episodes at once and I was the fourth contestant, so I'd had seven hours of nervous adrenaline before it was my go. My other excuse is that the clever girl what does the numbers and that was quite hot and nearly looked at me once so I could tell she fancied me. She can't spell though.
Neither, it transpires, can I.
Anyway, the bloke I matched up against was on his fifth episode and he had a little beard I didn't like. As if that wasn't enough, he decided to get all fancy in the first round with a seven letter word which, the mathematically inclined will be forced to notice, is one better than the six letter word I was rather proud of. What's wrong with these people?
I was preoccupied with fulfilling a lifetime ambition to spell out a swearword via the judicious selection of consonants and vowels when it was my turn to pick the letters. Sadly, the closest I got was accidentally spelling "gunt" with the last four letters and we had to refilm that bit and swap the n and t around for myopic viewers unable to view an uppercase G correctly.
The hirsutic didn't win another round. "Take that, beardo!", I yelled, as he scuttled away crying having gotten the conundrum wrong at the end, in much the same way that you would expect of someone that can't even manage such a basic task as checking that the nine letters they've rearranged in their head are correct before pressing a buzzer.
I got to sit in the champion's seat after that because I was a champion and it was the only appropriate place for one such as I. A champion. Championing over those around me.
Next up was another Pomme who I'd been hanging out with all day. He was a nice kid; beardless, if you will, but his major problem was that he was much better at the game than me.
Fortunately, he was extremely nervous. "I expect you're very nervous", I said, by way of calming him down, "what with it being your first time on TV, playing against a seasoned professional and vanquisher of Beardo".
We were neck and neck for a round or two. Then he won a round. "You're sitting in your seat wrong", I told him, but it didn't help because he won the next round as well.
A common practice in any household containing me, is for someone (me) to shout "You f****** t***" at the TV during Countdown when a contestant does something retarded like use one letter twice. In fact, I could hear myself shouting those words from six months in the future when the show will be aired, as I declared I had made the word "rebrand" despite there being only one "r".
I was soon 20 points behind and desperate. Inexplicably, my co-contestant (The Enemy) managed to make a couple of errors himself, so we went into the final Conundrum with me four points behind.
In times of stress I find it's always best to panic. I saw the word "migrating" in the conundrum. Clearly The Enemy would see it too, my brain squealed, and it was imperative that I press the buzzer before him. No time to check if I'd got it right.
"Migrating" doesn't have an "o" in it. The conundrum did though. Five seconds later The Enemy buzzed in with "migration". Perhaps we had a laugh about that later, what with us both being Pommes, I don't remember. I was too busy mentally self-harming over my inability to deal with stress and the fact I didn't even manage to spell out "tits" with my letter selections.
I'm fairly sure it's the worst thing that's happened in human history. I did win a dictionary, though.
Rob