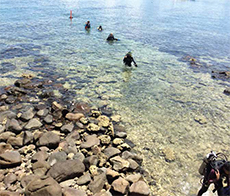 Coral Cay in the Philippines
Chantelle Wyatt
Coral Cay was first introduced to me by a few friends who were studying Marine Biology at university. Several of them were heading out to take part in projects in the Phillipines and at the time I was working in a UK dive store. I was helping to sell kit to divers on their way out to the site, and so even back then, the project was of great interest to me and I was delighted when the opportunity arose to visit.

Coral Cay has been operating in the Philippines since 1995 but only from their current location in southern Leyte since 2002. The project works closely with the Fillipino Reef and Rainforest Conservation Foundation Inc, and the local government, to monitor and survey the sites environment.

This particular site lies in the middle of the coral triangle, a region of the Indo Pacific, which is notoriously known for being one of the most diverse and marine rich areas on the planet. This site offers impressive pelagic fish and astonishing macro creatures. So what is the aim? The aim is to preserve it, to protect it and to ensure that that ideology lives on...

To read the rest of this article, you'll need to get your hands on Tanked Up Magazine. It's free. What are you waiting for?