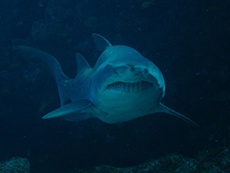 The Big Five: South Africa
Juliette Claro
Let's set the record straight for those who still dream of South Africa as Caribbean, still, blue-water diving – you are in denial and you should do your bloody homework before packing all your Mickey Mouse gear.

No joke here, I was amazed to see how many groups of divers from all over the world, from Greece to Israel, who got a bit of a shock once they hit the launch site at Aliwal Shoal, Durban. Not only do these people believe they can dive with sharks wearing a home-painted yellow and orange suit, but some also put themselves on a RIB in the middle of the Indian ocean without knowing what NDL means (that person was supposed to be an instructor by the way). I am not even going to mention negative entries in surge and current... all I can say is that the sharks legged it after being slapped, hit and kicked by the same people who thought sharks were pets we could feed and play with like dolphins...

To read the rest of this article, you'll need to get your hands on Tanked Up Magazine. It's free. What are you waiting for?