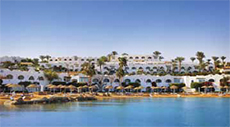 Dry Sharm Dos and Don'ts: Posh Hotels
There was once just a Sheraton. Now Sharm has representatives of every 5 star hotel chain on its divey shores. You are paying over $200 a night – they have to give you that sort of service. Here's how to behave in them:

Do Make "micro-complaints." They have staff dedicated to your every whim and they love hearing about any problem, no matter how small. If the handle of the mini-bar is a little loose. Call reception. If the kettle is the wrong colour and disturbing the feng shui of the room. Call reception. Perhaps the TV remote control is dirty. Call reception. The wrong ply toilet paper? You know what to do. You have paid to live like a King for a week. These are your servants...

To read the rest of this article, you'll need to get your hands on Tanked Up Magazine. It's free. What are you waiting for?