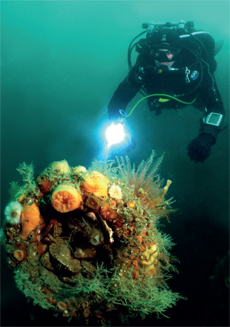 Scapa Flow
Mark Cowan
The sea-bleached shot line cut a vertical path through my view as I plunged into the green waters of Scapa Flow. My torch beam poked into the deep and my regulator hissed with each breath until I caught sight of the upturned shipwreck I'd travelled 600 miles to Orkney to see.

Appearing below, like a ghostly apparition, was the SMS Kronprinz Wilhelm, a German battleship entombed on the seabed for almost 100 years. Following the hull as it curved down, my computer whirred like a train station destination board: 25 metres; 30; 35. Then, the metal wall disappeared and a cavern opened up before me.

Time ticking, I kicked into the shadow created by the overhanging gundeck. Sweeping my torch right and left, I suddenly stopped. Ahead, illuminated in the clear water, were giant cannons which had bombarded the British at the battle of Jutland. The 12-inchers vanished from sight. Apparently I was meant to be really scared down here. Astounded, I gobbled to hold my regulator as my mouth fell open...

To read the rest of this article, you'll need to get your hands on Tanked Up Magazine. It's free. What are you waiting for?