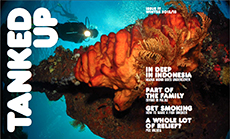 DOWNLOAD TANKED UP MAGAZINE ISSUE 17
That's right, humans. This issue of Tanked Up magazine is available via download. In fact, it's only available via download. Stop weeping because the print version will be back, but we reserve the right every now and then to bring the magazine up-to-date with the 20th century.

Here's how it works. You fill in your name and email address below, click submit, and an email appears in your inbox with a download link. Click the download link and the magazine appears on your computational device. It's so simple, my mum could do it*.

Downloadisation of the mag is taken as acceptance of the terms and conditions.

*Over a period of three or four hours with step-by-step instructions from a dedicated telephone helpline.