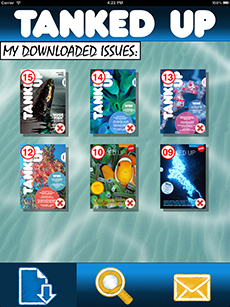 The Tanked Up App
The Tanked Up Downloader for the iPad and Android tablets is here and it is, of course, free. Here's the blurb:

Download all the back issues of world-renowned* Scuba diving publication**, Tanked Up Magazine for free!

Well, all the back-issues we could be bothered to put online, anyway.

Once constructed using only the finest of paper and the purest of ink (also, bits of glue), Tanked Up Magazine is eschewing all that is analogue (except Scuba diving. And scuba divers. And non-scuba divers. And the print edition) and firmly embracing the 20th Century with both figurative arms (figurative restraining orders not-withstanding), in order to present to ye, yon reader, these back-issues of divey goodness in digital form on the iPad and Android tablets.

You'll never need to be bored on a safety-stop again!***

Ironically, Tanked Up Magazine is both the only Scuba diving magazine worth reading, and also still a cult phenomenon after five years. That can't last for long, so literally (figuratively) get on board now, so that when Tanked Up Magazine becomes a by-word / phrase for all that is good and all that is amusing in the world, you can announce with glee: "I used to read it, before it was famous".

The pertinent points once again:
Tanked Up Magazine.
Back Issues.
Free.
On the iPad.
On Android tablets.
Scuba Divers.
Non-scuba divers.
Non-zero levels of mirth.
Salt and vinegar crisps are delicious.
PLEASE NOTE: Tanked Up Magazine has been scientifically proven to cause relatively few side-effects of madness and public nudity when read by non-Scuba divers.

* Not true.
** True.
*** Presumably because you'll find some fish or something to look at. Tanked Up Magazine is water resistant to a depth of less than 0 metres.

Available now for t'iPad on iLooneyTunes and on Android in the Googly Play area.

Please Contact Us with any questions or support queries.






PS. Aren't those icons along the bottom of the app beautiful, eh? We borrowed them from: Double J Design